Maitre and Crabtree Dental Group has benefited the lives of thousands of patients since opening our practice in 1968. Our patients are real people with real lives and very human concerns and questions. We are passionate about caring for our patients. We strive to provide the best possible dental service and experience.
Patients often relate their experiences to us. All of us at the Maitre and Crabtree Dental Group are proud to share with you some of the feedback we've received from our patients. Nothing speaks more eloquently as to what we do than those we've done it for.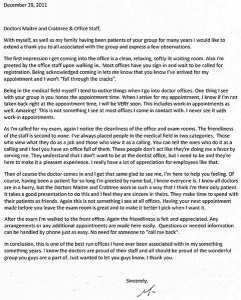 "Doctors Maitre and Crabtree & Office Staff,
With myself, as well as my family having been patients of your group for many years I would like to extend a thank you to all associated with the group and express a few observations.
The first impression I get coming into the office is a clean, relaxing, softly lit waiting room. Also I'm greeted by the office staff upon walking in. Most offices have you sign in and wait to be called for registration. Being acknowledged coming in lets me know that you know I've arrived for my appointment and I won't "fall through the cracks". Being in the medical field myself I tend to notice things when I go into doctor offices. One thing I see with your group is you honor the appointment time. When I arrive for my appointment, I know if I'm not taken back right at the appointment time, I will be VERY soon. This includes work-in appointments as well. Amazing! This is not something I see at most offices I come in contact with. I never see it with work-in appointments.
As I'm called for my exam, again I notice the cleanliness of the office and exam rooms. The friendliness of the staff is second to none. I've always placed people in the medical field in two categories. Those who view what they do as a job and those who view it as a calling. You can tell the ones who do it as a calling and I feel you have an office full of them. These people don't act like they're doing me a favor by serving me. They understand that I don't want to be at the dentist office, but I need to be and they're here to make it a pleasant experience. I really have a lot of appreciation for employees like that.
Then of course the doctor comes in and I get that same glad to see me, I'm here to help you feeling. Of course, having been a patient for so long I'm greeted by name but, I know everyone is. I know all doctors are in a hurry, but the Doctors Maitre and Crabtree work in such a way that I think I'm their only patient. It takes a good presentation to do this and I feel they are sincere in theirs. They make time to spend with their patients as friends. Again this is not something I see at all offices. Having your next appointment made before you leave the exam room is great and to make it bettert pick when I want it.
After the exam I'm walked to the front office,;,Again'the friendliness is felt and appreciated. Any arrangements or any additional appointments are madeT1er'e easily. Questions or needed information can be handled by phone just as easy. No need for someone to "call me back".
In conclusion, this is one of the best run offices I have ever been associated with in my something something years. I know the doctors are proud.of their staff and all should be proud of the wonderful group you guys are a part of. Just wanted to let you guys know. I thank you."
Jerry and his family received cleanings, crowns, fillings and a
retainer for teeth grinding.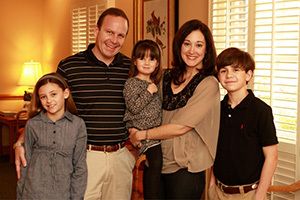 "From cleanings to having various dental procedures done, my family always received professional and courteous care. The equipment and procedures are all state-of-the-art and their office is clean and comfortable.
"We feel very comfortable with all the dentists in the group. They are kind and gentle. They have been very concerned with giving my family the best dental care that can be offered. They have never steered us wrong with any of the treatments. My children have no fear of the dentist, because of the child-friendly approach the dentists take with them. We never feel rushed with our appointments and have all our questions answered.
"The staff is very friendly and professional. From making regular appointments to calling with immediate needs, the staff has always worked to accommodate our schedules even if we need to be seen right-away. They have always made filing our insurance claims painless and easy and we have never hand any billing issues.
"The hygienists are wonderful. They strive to make our dental cleanings a painless and easy experience. Holly has never complained about having to floss my little girl's toy alligator's teeth. She has been so sweet and kind and never lost patience. It is a true family experience. I'm thankful that the dentists and staff truly care about our family and meeting our dental needs. And that my children can stay with the group; through adulthood."
– Jessica and Jerry
Victoria received a cleaning and crowns.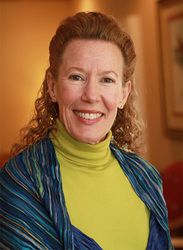 "I like walking into the offices and seeing the same ladies greeting me. I particularly like seeing the same hygienist twice a year. I feel I have a relationship with her, as well as with Dr. Forrest Crabtree.
"Dr. Crabtree is very personable and well-schooled in putting the patient at ease. He goes to work and gets the job done quickly and as pain free as possible. If Dr. Crabtree is unavailable, I know another dentist there can help with any problem.
"While the office obviously runs like a well-oiled machine, the atmosphere feels more like a close family. This family atmosphere certainly helps put one at ease."
– Victoria
Robin received general checkups and a crown.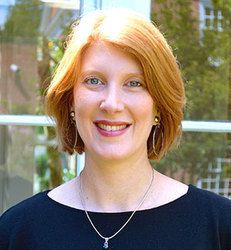 "Before moving to Mobile, I had gone to the same dentist for over 30 years and was anxious about finding a new dentist. After my first visit with Dr. Ship Maitre, I knew that I was in good hands. From the warm greeting of the office staff to the thoroughness of the dental hygienists, and the expertise of Dr. Ship Maitre, every encounter I have had with Crabtree and Maitre has been positive. The extra care that Dr. Maitre takes at each visit to listen and respond to my questions reassures me that I am in the hands of a capable and compassionate dentist. I cannot say enough good things about Dr. Maitre and his staff."
– Rev. Robin Wilson
Diane received veneers and a bridge.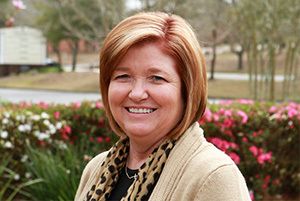 "I came to see Dr. Mike Maitre because I had a permanent crown that had been loose for a while and I finally lost it. I had not been to the dentist in a while so I had to update the information in my file. One of the questions on the paperwork was 'are you happy with the way your teeth look?' I answered 'No'.
"When I was in the dentist chair Dr. Mike's assistant Robin was looking over my file and saw what I had written down. She began telling me some of my options and offering her advice and said when Dr. Mike came in we could discuss it further. Dr. Mike told me step-by-step exactly what he would do and how long it would take. That got the ball rolling. They sent their recommendations to my insurance company for approval. As soon as that was received, they made a time for my first appointment.
"One thing that Dr. Mike and Robin both stressed to me was that they wanted me to be happy with the end results and if I wasn't pleased with any little thing to be sure and let them know.
"I love my new smile. I wish I had done this years ago."
– Diane
Amanda received braces, jaw surgery and a crown.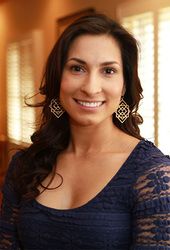 "Dr. Forrest Crabtree recommended I see Dr. Hicks' orthodontics group. Dr. Hicks treated me wonderfully and suggest I wear braces and have a jaw procedure, performed by Dr. Zieman. I went through nearly three years of treatment with Dr. Hicks, Dr. Zieman and Dr. Crabtree all working together.
"The end results are phenomenal. I am very pleased with the appearance of my teeth and the way my jaw feels now. My teeth look amazing and I feel great. It was a long process, but well worth the time and I always felt like the team of doctors were communicating with each there to provide optimal care for me."
– Amanda
Jim received root canal treatment and a crown.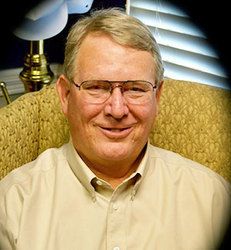 "Dr. Ship Maitre was able to help me in an emergency situation when my previous dentist could not. "I find Dr. Maitre's office staff to be very courteous and his office to be equipped with up-to-date technology and equipment. Visiting Maitre and Crabtree Dental Group is more like a walk in the park than a fast subway ride. Their comfortable atmosphere, professional manner and their ability to take care of all my dental needs under one roof have made Dr. Ship Maitre and Maitre and Crabtree Dental Group my permanent dentists."
– Jim
Beth received routine exams, fillings and crowns.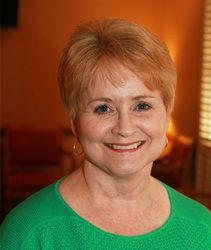 "Approximately fifteen years ago when I had my first appointment with Dr. Maitre Sr., it had been several years since I had dental care because of my fear and anxiety. Dr. Maitre made me feel welcome, relaxed and special – he cared.
"One of the first things he said to me was, 'I'll make you a promise – I'll never hurt you. He kept that promise and Dr. Maitre Jr. has continued. I actually look forward to seeing everyone at his office. No more fear, Thank you to everyone there!!"
– Beth
Charles received implants and crowns.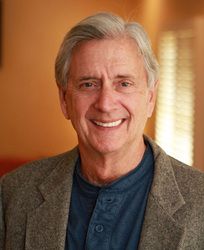 "Dr. Forrest Crabtree is a fine young man and an excellent dentist. He is fast and his treatments painless and has surrounded himself with an excellent staff. He is a partner in a long established dental group with an excellent reputation in our city.
"Because of Dr. Forrest's excellent work I now have a "Movie Star" smile and I'm frequently mistaken for Tom Cruise! Friends all agree I look 20 years younger!!"
– Charles
Bill received an implant and fillings.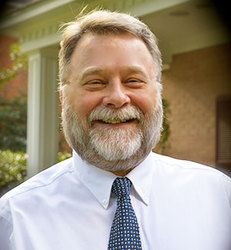 "Dr. Ship Maitre has been my dentist for 4 years and I have been exceedingly pleased with his treatment. He is a very pleasant and expert dentist who is very concerned about his patients and their health. His care for my dental needs has been wonderful. Dr. Maitre can not only expertly handle routine dental check-ups and procedures, but also more complex dental procedures like dental implants, crowns, veneers and cosmetic dentistry.
"His office staff and dental assistants are equally expert and friendly. In addition to the expert quality of care provided by Dr. Ship Maitre and his staff, I am very impressed with the speed and efficiency that appointments are made and the fact that Dr. Maitre and his staff keep any waiting for appointments to a minimum. I highly recommend that you see Dr. Ship Maitre for all of your dental care needs."
– Bill
Jeffrey received cleanings, fillings and cosmetic dentistry treatments.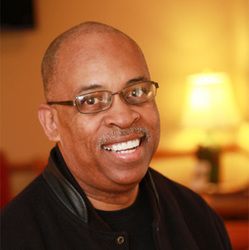 "I appreciate the relationship Dr. Maitre and the staff has developed with me. I do not like to be called or referred to in general. Dr. Maitre and his staff call me by my name. I appreciate that. The treatments, cleanings or fillings have always been done with precision, perception and passion.
"I was really taken when Dr. Maitre shared his vision he had with me. I never dreamed or thought of the way my teeth or smile could be better. One visit he told me being a preacher and a pastor and in front of people in public, you need a better and brighter smile. He told me how he could fix and straighten my front teeth. He showed me how they could look. Because of his vision and concern for me, I trusted he saw and believed he could do what he said.
"Today, I'm proud of the results. Many have noticed and admire my teeth and my smile. I am grateful for the person, the perception, and the professionalism in my dentist Dr. G. Michael Maitre and his superb staff."
– Jeffrey
Sharon received a cleaning, a filling and a crown.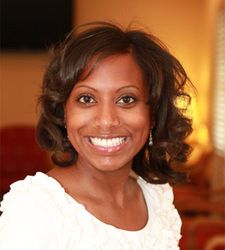 "Upon my move to Mobile, AL I was in need of a dentist immediately, because I was having a strong pain in my mouth, I looked up what dentist was in my insurance network and which dentist could see me the same day. After calling two dentists, Dr. Crabtree was the third office and they could see me within the next two hours.
"I was extremely impressed with the scheduling and excited that my pain could be relieved soon. Upon entering the office, the staff was extremely friendly. My initial interaction with Dr. Crabtree was 'Awesome'. Our personalities hit off immediately.
He is very personable and caring and takes the time to find out the background of his patients, I really like the fact that he cares. Upon doing my first procedure he was very gentle and took his time and asked questions to make sure I was comfortable during the procedure. From three I knew he would be my dentist. I always look forward to my visits and my interaction with Dr. Crabtree. He is the best."
– Sharon
Mary received crowns and veneers.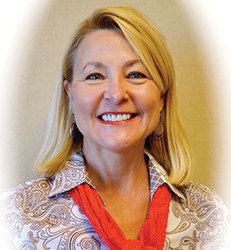 "I truly value having Dr. Ship Maitre as my personal dentist. My confidence in him and his staff allows me to have a healthy smile and a very pleasant, professional experience every time I visit!"
– Mary Jane
Jon and his family received checkups, cleanings and emergency care.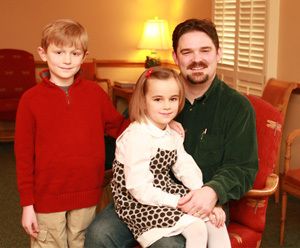 "Everything about Maitre and Crabtree Dental Group is excellent. All of the staff is friendly and professional. Appointments are timely. The dental technicians are wonderful with children, showing good humor and patience.
"Dr. Mike Maitre is a fantastic dentist and very personable. Once when our two-year-old son fell, Dr. Mike stayed after hours to see and treat him. I recommend Dr. Mike to everyone who is new to town or in need of dental care."
– Jon
Darrell received a cleaning and a dental implant.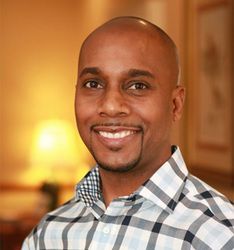 "Dr. Forrest Crabtree was highly recommended to me by my wife. Having worked around many dental professionals over the last 12 years, I know a good dentist when I visit one. Dr. Crabtree is very patient and effectively communicates with me.
"I had a crown that was improperly done and Dr. Crabtree worked with me to develop a plan for a dental implant and new crown to be placed in. Now that my crown is in I am extremely happy and look forward to many more years to come as a member of the Maitre and Crabtree Dental Group family."
– Darrell
Matt received general checkups and cleanings.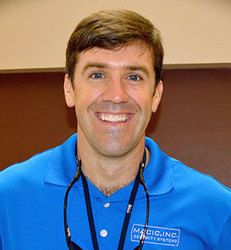 "When I first visited Dr. Ship Maitre's office, I was impressed with the beautiful, modern building and professional landscaping. Upon entering the building, I was greeted by a polite, helpful receptionist. I was able to quickly see Dr. Maitre and was further impressed with his knowledge and warmth.
"Additionally, in contrast to my dental experiences at other places, I was happy to see up-to-date, advanced equipment being used to provide me with the best dental care available. I am a very satisfied patient!"
– Matt
Tony and his family received filings, cleanings, extractions and restorative dentistry.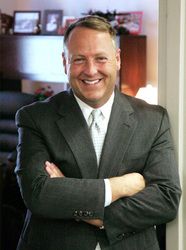 "I found out about Dr. Maitre through a friend of a friend. They recommended their service. This was about fifteen to sixteen years ago.
"It's a very personal experience. One of the things that I seek in a health care provider is not only a professional but personal relationship. I want to be on a first name basis! I've found this with Dr. Maitre and his team. It's very much a family atmosphere. I don't just feel like a patient, I feel like a friend.
"I like the easy accessibility, the friendliness, the cleanliness, the professionalism and the fact they are wonderful people to be friends with. It all comes down to relationships with me. It's a family experience. It's not a painful experience."
– Tony
Stephen received general checkups and fillings.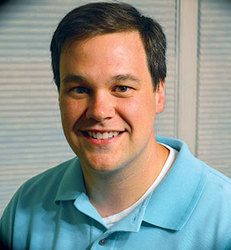 "After several years of moving from town to town and skipping my dental appointments, I was nervous when I made a new appointment to see Dr. Ship Maitre. I was surprised at how soon I was able to get an appointment and the staff was very friendly. Dr. Maitre and his staff created a comfortable and relaxing environment and my first trip back to the dentist in years was anxiety-free!"
– Dr. Stephen Marbut
Donald received full mouth restoration.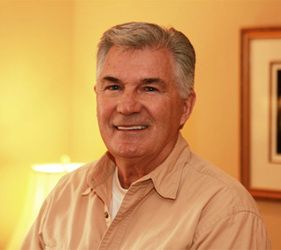 "During my first visit (consultation) with Dr. Mike Maitre Jr., I quickly gained confidence that this is the dentist I was looking for. I was impressed with the professional manner that Dr. Mike and his staff exhibited.
"After a thorough examination, Dr. Mike presented me with a proposal to correct my bad dental situation. This required a full mouth restoration.
"At this time (first visit) I made the decision to have this procedure done. After providing me with a complete layout as what this procedure would involve along with timelines and cost, Dr. Mike started the preparation work on this first day.
"All through the progress of this work, Dr. Mike remained concerned about how I was feeling and would call me at home to check on me, even calling me from his home on the weekends.
"Now that my full mouth restoration has been completed, Dr. Mike continues to have follow up exams to ensure that I have many years to enjoy my new look along with being able to eat any foods that I want and not having to endure pain as I once did. I am thoroughly happy with my new smile and all the work that Dr. Mike and his staff performed for me."
– Donald
Trey received full mouth restoration.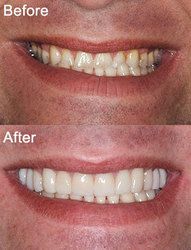 "I am writing to express my utmost appreciation for the superior level of care and expertise I received when having my corrected bite and teeth reconstruction procedures at Maitre and Crabtree Dental Group.
"I had known for years that the day was coming when I was going to have to get "all new teeth", and when it did, I never considered having anyone other than Dr. Forrest Crabtree of Maitre and Crabtree Dental Group do my work. Mouth reconstruction is as significant of an investment as buying an automobile, and obviously it has to be perfect. My specific case was extremely involved and from day one Dr. Crabtree kept me abreast of exactly what it would take and when. A procedure like this can be touch-and-go and require quite a bit of creativity on part of the dentist. Dr. Crabtree always did whatever it took to make sure I was taken care of and as comfortable as possible.
"Maitre & Crabtree Dental Group is very blessed, in my opinion, to have the best assistants in business. In a procedure like mine, you spend a great deal of time with the assistants, and I quickly became great friends with the staff.
"My wife, Carol, and I did not know exactly what my new teeth would look like after my procedure was complete, but when I got home after the final appointment Carol immediately said, "they are perfect!" I knew then that it was all worth it. From then on, each day, more and more people would tell me (and still tell me) what pretty, perfect teeth I have. Each time someone mentions my teeth, I always tell them Dr. Crabtree is the best!
"Again, I just wanted to thank Dr. Crabtree and the entire staff at Maitre & Crabtree Dental Group for the special attention and excellent, perfect work they did for me. I will always recommend this group to anyone needing any type of dental work, but especially those with an involved case like mine."
Your friend,
Trey
"When I moved to Mobile I was nervous about finding a new dentist. I asked friend and colleagues and did research online to find a new dentist. I was looking for someone with a great reputation who is also conservative, convenient, and could quickly schedule me an appointment. Dr. Ship Maitre met all these requirements and then some. He is easy to talk to and is wonderful! I feel like I can't brag on Dr. Ship Maitre enough. I would recommend his practice to anyone. I look forward to my visits because I have confidence it will be a wonderful experience!"
– Brittany
"In the last few years I have been a patient of Dr. Ship Maitre, who in my opinion is a very talented and professional dental practitioner. Dr. Maitre has given me excellent dental care and the treatments that he has provided me have restored my teeth and allowed me to maintain good dental health. As a result of Dr. Ship Maitre's efforts, I have a mouth full of teeth that have allowed me to possess a high quality of life and remain a productive member of the community."
– Paul
"For me, attending the Maitre and Crabtree Dental Group has redefined "a trip to the dentist," raising the bar and ultimately setting a new standard in what can be expected from a dental office. They're always courteous and friendly staff makes me feel like I'm at a spa, not a dentist. More importantly, I leave confident that I've received the best care possible, as they integrate the latest in technology with the personal, hands-on attention of experienced, highly skilled professionals.
"Furthermore, their location is easily accessible for me in a matter of a few minutes from anywhere in town. For me and my entire family, Drs. Maitre and Crabtree are the best dentists in Mobile, and we look forward to receiving our dental care from them for years to come."
– Russell
"Drs. Maitre and Crabtree have been my dentists since the early '90s, and I have always been very pleased with the quality of their dental work, including fillings, root canals, implants, extractions and bi-annual cleanings.
"Unfortunately, I think of myself as a bad dental patient because I wait until the pain cannot be tolerated any longer, but when I finally get in the dental chair, I find I am treated with special kindness and sensitivity. I have never had any unusual pain or problems. In my opinion, this dental practice is the best!"
– Betty
"Our family has been seeing the Maitre and Crabtree group for over 12 years. We started out seeing them as a young couple, and as our family grew, we brought our children to them as well. They have truly been a family dental group for us. Our children were put at ease from the beginning and enjoy going to the dentist. The staff is wonderful and always happy to see us. We wouldn't think about going anywhere else!"
– Jessica
"The quality of service and friendly professional atmosphere found at the Maitre and Crabtree Dental Group makes each visit a pleasure. While stationed in Mobile, I accidentally chipped one of my front teeth, which left an unsightly fracture. A good friend of mine from Mobile suggested that I visit Dr. Crabtree to let him assess the damage.
"On my initial visit, I was warmly greeted by the professional office staff that took my information, and shortly thereafter, was seated in a dental chair where I explained my problem to one of the friendly dental assistants. Within minutes, I was greeted by Dr. Crabtree who explained his recommendation for fixing my tooth. The procedure was quick and painless, and a quick glance in the mirror revealed a tooth that appeared flawless.
"I was completely satisfied with the outcome so I began to ask about other available cosmetic procedures, namely bleaching. I had heard of having teeth whitened, but was unfamiliar with the process. After a detailed explanation of the Zoom! procedure, I was surprised at the innovation of the technology and decided to move forward with the procedure. Once again, I was completely satisfied with the results and could see a noticeable change in the shade of my teeth almost immediately.
"Unlike other dental practices I have visited in the past, I felt that Dr. Crabtree and staff valued my time and appreciated my business. The professionalism and commitment to excellence provided at Maitre and Crabtree Dental Group is exceptional, and I highly recommend their practice."
– Griffin
"When we moved to Spanish Fort from west Mobile five years ago, I considered changing dental offices to one that is more convenient to our new home. About this same time, we began to see Drs. Maitre and Crabtree, and our family fell in love with them.
"My children, now ages 15 and 8, actually look forward to visiting the dentist office. They enjoy talking with Drs. Maitre and Crabtree and the friendly staff about their latest adventures. Dr. Crabtree and his staff are always patient and listen to our questions, respecting our concerns about our dental care. We don't mind making the 36-mile round trip to the dentist. I highly recommend this office to anyone new in town or just looking for a new dentist."
– Terri
"Maitre, Maitre and Crabtree are fantastic dentists. They have been my dentists for nearly 40 years. My parents, children and I have all been completely satisfied. A positive recommendation is easy to make and heartfelt."
– Jan
"My 2-year-old daughter has been a patient of Drs. Maitre and Crabtree since her teeth first started coming in, and our experience with their practice has been great. The dentists handle their patients very professionally and with a high level of personal attention. The office staff and hygienists only add to the expert care we have received.
"My wife recently completed a custom tooth whitening treatment, which has shown clear results. I will soon begin taking my 2-year-old son to Maitre and Crabtree Dental Group and would not hesitate to recommend them to anyone."
– Alex
"I have been a patient of the Maitre and Crabtree Dental Group for over 30 years. The professional, courteous staff is second to none, delivering the highest level of care with a personal touch."
– Stuart
"I have been a patient of Drs. Maitre and Crabtree for over 20 years. They have provided my entire family excellent care and always make us feel comfortable and welcome."
– Jack
To make an appointment, call 251‑344‑4571 or request an appointment online.