Bridges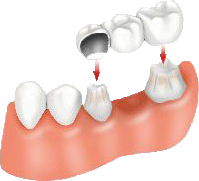 A dental bridge is a natural-looking device which is custom-made to fill that gap in your smile while also preserving your teeth's alignment. The dentists at Maitre & Crabtree Dental create fixed dental bridges made from porcelain, which is considered a top-quality type of modern dental bridge building material, fused to metal or ceramics. Our dentists have decades of combined dental bridge experience and have extended training in restorative dentistry, including dental bridges. Thanks to our range of tooth replacement procedures and flexible financing options, patients in Mobile, AL, and the surrounding areas do not have to suffer the consequences of missing teeth.
What to Expect During Treatment
We place dental bridges based on how many teeth are being replaced. We use an all-porcelain bridge, which is considered very lifelike. We will make sure you are comfortable throughout the procedure and will keep you informed of what we are doing. Our main goal is to make sure you have good function and aesthetics. Even if we pull a tooth and you decide to create a bridge, that day you'll walk out of our office with a custom-made temporary bridge so that no one will even know you have a missing tooth.
Fixed Bridges vs. Single-tooth Implants
A fixed bridge is comprised of a filler tooth that's attached to two crowns that fit over existing teeth and hold the bridge in place. The false tooth or teeth literally "bridge the gap" between natural teeth. A fixed bridge is non-removable and offers a very aesthetic, natural replacement for missing teeth.
Fixed bridges work well for patients who already have crowns, or who need crowns, on the teeth around the missing tooth or teeth. However, if the teeth next to the missing tooth are healthy, instead of using a bridge to fill the gap we may recommend using a single dental implant to replace the missing tooth.
Our dentists have decades of combined dental bridge experience and have extended training in restorative dentistry, including dental bridges.
The single tooth implant essentially replaces the natural tooth. It is placed in the area of the missing tooth and functions just like a natural tooth, but it won't decay. The bone in the area of the missing tooth won't recede, either. And where an implant can last a lifetime, bridges have an average lifespan of only around ten years.
Conservative Options for Treatment
Because they avoid the unnecessary cutting of healthy teeth as with a fixed bridge, implants are a more conservative solution to replacing missing teeth. Implants are also easier than a dental bridge to keep clean and free from bacteria. Moreover, an implant helps to retain bone while resorbed bone under a bridge can cause a gap at the gumline in your smile.
Call Our Office Today
If you think you need a bridge to close a gap in your smile, come on in for a consultation. Our doctors will go over your options and help you choose your best option for replacing missing teeth. To schedule an appointment, call our office at (251) 344-4571 or send us a message to request an appointment online.