Dental Crown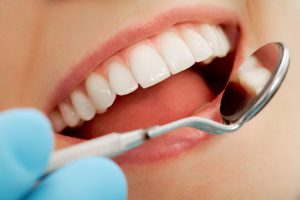 A damaged, decayed, or worn tooth can affect your entire smile. Left untreated, these issues can lead to additional oral health concerns such as misalignment and excessive wear on your surrounding teeth. A dental crown is a custom-made dental restoration which covers your existing tooth structure, restoring its strength, function, and aesthetics. At Maitre & Crabtree Dental, we work with a trusted lab to create custom crowns from a variety of materials. The doctors at our Mobile, AL, office, G. Michael Maitre, Jr., Forrest G. Crabtree, and R. Blankenship Maitre, have all undergone extensive training in restorative dentistry. Our team uses advanced techniques for beautiful, long-lasting results.
Do You Need a Crown?
A dental crown is a cap-shaped restoration which is used to completely cover the visible portion of a tooth affected by:
Decay
Trauma
Excessive wear due to bruxism
In addition, crowns can be combined with dental implants to replace missing teeth. A crown can also help address cosmetic imperfections, such as severe discoloration which is unresponsive to teeth whitening, or a disproportionately small tooth.
Restore Your Tooth in Two Appointments
The process of receiving a dental crown can usually be completed in two appointments.
Preparing the Tooth
One of our dentists will begin by numbing the area and gently resizing your tooth. This helps eliminate any damaged areas and creates room for your new restoration.
Our team uses advanced techniques and dental crown materials for beautiful, long-lasting results.
Next, we will create digital impressions of your smile, a technique which is much more comfortable than messy putty impressions. Our office is equipped with a 3Shape TRIOS® intraoral scanner. This scanner allows us to collect detailed, fully digitized information to send directly to our lab.
A small amount of the tooth's structure will be removed to ensure a comfortable fit. 
Prior to sending you home from your first appointment, we will provide you with a temporary crown to wear until your next visit. In most cases, the lab can return finished crowns to our office within a week of your initial consultation.
Placing Your Permanent Restoration
Once the permanent crown is ready, you will come back to our office for its placement. One of our doctors will first test the fit, feel, and look of the crown to ensure that it does not disrupt your bite or alignment. He will then secure the crown in place using a special dental cement. If necessary, we can gently file or polish the crown to achieve the most natural-looking results.
Advanced Materials
One of the greatest features of dental crowns is the lifelike, durable materials available to us. Options include:
All-ceramic: All-ceramic crowns are trusted by patients who want a metal-free, highly lifelike, and long-lasting option.
Lithium disilicate: These crowns are an extremely long-lasting option, with studies showing a nearly 95 percent survival rate after eight years. Lithium disilicate restorations can be fabricated in a variety of shades to match your smile.
Zirconia: Zirconia restorations are considered the best option for protecting molars due to their high resistance to pressure. However, they retain the same natural-looking qualities of other materials.
In order to recommend the best material, your dentist will assess factors like your needs and treatment goals, the location of your affected tooth, and your budget.
Protect Your Smile
Crowns are most often used to treat damaged or weakened teeth, so treatment is usually partially or fully covered by insurance. We accept most PPO insurance plans and offer reasonable and competitive rates for patients without insurance coverage. To learn more about our dental crowns or financing options, call our office at (251) 344-4571 or send us a message online.