Dental Implant Procedure
One-stop minimally invasive implant placement
One of the most durable, natural-looking ways to enhance your smile is with dental implants. They can be used to replace missing teeth or to repair them. You can get a single tooth implant, multiple implants or even get implants to anchor dentures that will replace all of your teeth.
At Maitre and Crabtree Dental Group we can handle your entire dental implant procedure at one convenient location. Our dentists are well equipped and fully trained to perform the various types of advanced dental procedures done with implants. In some complex cases, they may team up with a prominent local oral surgeon for optimum results.
Complimentary Dental Implant Consultation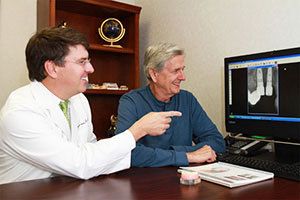 Schedule you complimentary consultation today and get informed while having all your questions answered. You'll discover if you're a candidate for implants and receive several treatment options so that you can get the treatment that will best fit your budget.
Meet the doctor
Oral exam
Get a second opinion
Discover if you're an implant candidate
Find out how implant treatment works
Learn your treatment options
Get any questions answered
To make an appointment, call 251‑344‑4571 or click here to request an appointment online.
Our Dental Implant procedure
Treatment Planning and Consultation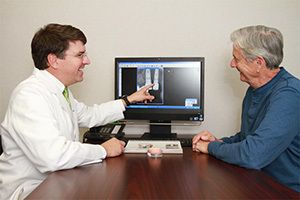 One of our knowledgeable dentists will perform a very thorough visual oral exam and review of your preexisting health issues. He'll closely scrutinize all the information concerning your jawbone and its anatomy as shown by your oral exam, intraoral photos, low-dose X-rays and any other imaging tests that you might require. With this comprehensive data, he can create an ideal treatment plan, while giving you various possible options.
The doctor will discuss all of your options with you in detail. He'll spend a lot of time educating you about implant placement and answering any questions you may have. This way, you can make an informed decision about replacing your missing teeth with implants.
Bone grafting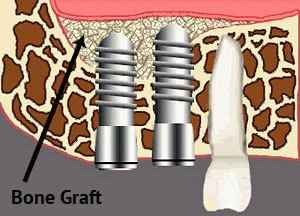 In some cases when there is an insufficient amount of bone in which to place the implant, bone grafting will be done.
In many cases, the bone graft and the implant placement can be done in the same visit. Otherwise, the bone graft is left to heal and then the implant is placed. The doctor evaluates which method will work best for each patient based on his or her unique circumstances.
Dental Implant placement
Implant surgery is a time-tested, safe procedure and there are not likely to be any issues during the surgery. Implant placement surgery usually takes about 45 minutes for one implant and up to several hours for multiple implants.
Whether one or all of your teeth are being replaced, the implant placement procedure is usually virtually identical. The implant site is prepared, the implant is placed, the tissue is sutured and a temporary crown is placed on top of the implant.
Your new crown and follow-up care
Once your mouth has healed, we will take an impression for your permanent crowns. A top-quality local lab will fabricate these special crowns using advanced computerized technology. We will then place these permanent lifelike crowns on your implants.
We will also provide you with ongoing follow-up care, including regular checkups and minor adjustments, as needed.
Dental Implant Before and Afters



To make an appointment, call 251‑344‑4571 or request an appointment online.