Full Mouth Reconstruction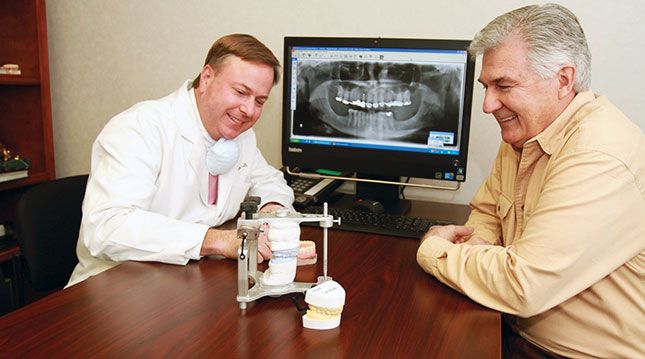 Restore your smile to full health and beauty
If you have various worn, broken or missing teeth, full-mouth restoration might be needed to return your smile to total health and beauty. With full-mouth restoration, which is also known as an extreme smile makeover, all of your teeth are either restored to health or replaced.
A full mouth reconstruction not only creates an aesthetic, healthy smile by restoring the size and shape of your teeth back to their original form, it also enhances your bite by restoring its ideal function and occlusion. Plus it improves overall facial appearance and self-confidence, too.
Relax, your smile is in good hands
Let Maitre and Crabtree Dental Group replace what is missing and put back what has worn off. Our dentists have many decades of combined experience and have advanced training and hands-on experience doing life-changing full-mouth restoration procedures. Their full-mouth restorations can improve not only your smile's look and how effectively you speak and chew your food, but your self-confidence, too.
Making an extreme smile makeover easier on you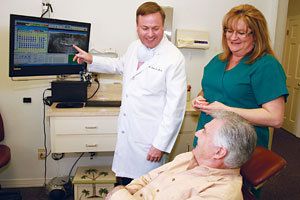 Full-mouth restoration is one of the most complicated treatments a dentist can do. Our knowledgeable dentists know when to do what and the "why" behind it all. They can give you a new smile that you'll be proud to show off no matter how complicated your current dental condition. Plus they'll do all of this while using the most conservative and minimally-invasive high-tech techniques and while preserving as much natural tooth as possible.
Our caring dentists help patients relax with their friendly manner and caring attitude. They will listen to what you have to say, answer your questions and discuss all your options with you. Patients especially like how gentle our dentists are in their smile restoration treatment. And you'll be glad to know they can split up the treatment over time so it's more affordable for you.
Our full-mouth restoration process
No matter how many smiles they've helped perfect, all of our dentists are well aware that each case needs to be customized to the patient. After all, everyone is different and therefore has unique needs. During your exam we find out exactly what you'd like to change about your smile. That's because we want to make sure we know what's important to you before recommending any procedures.
We will then create a treatment plan, using high-quality materials and advanced procedures, that will precisely fit your needs. Depending on the procedures that will be involved, we may create a model of what we expect your smile will look like after restoration. You'll review this model with the doctor and decide what you would like to have your smile look like. The choice is always yours.
Consultation / Exam X-rays
If you think you might need full-mouth restoration, come see us. You'll get a comprehensive exam and be presented with all the different options available to restore your smile. We will review your options with you and help you decide upon a treatment plan that fulfills your dental needs, while being mindful of your budget.
Procedures used in Full-Mouth Restoration
Our experienced dentists know that a restored smile can lead to improved overall well-being and a better quality of life. So they take their work quite seriously. Their goal is to provide you with top-quality full-mouth restoration in a comfortable and friendly environment.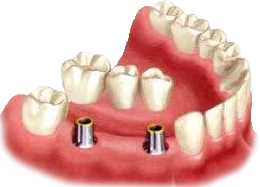 There are various procedures our knowledgeable dentists can use to restore your oral health and give you a beautiful, natural-looking smile. In all cases, they use a good dose of judgment to assess what is the best combination of procedures to use to create your new smile.
Dental Implants: An artificial tooth that's anchored in the jawbone to replace a missing tooth.
Implant-supported Dentures: A type of overdenture that's supported by and attached to implants but is still removable.
Implant-supported Bridges: An implant-supported bridge is a fixed dental appliance that replaces teeth without support from adjacent natural teeth.
Dentures: An artificial replacement for one or several teeth (partial denture) or for all of the teeth (full denture) in either or both jaws.
Crowns: A type of restoration that covers or "caps" all or most of the natural tooth.
Bridges: A fixed dental appliance that replaces a missing permanent tooth or teeth, that's normally attached to adjacent teeth to help support the missing tooth or teeth.

To make an appointment, call 251‑344‑4571 or click here to request an appointment online.